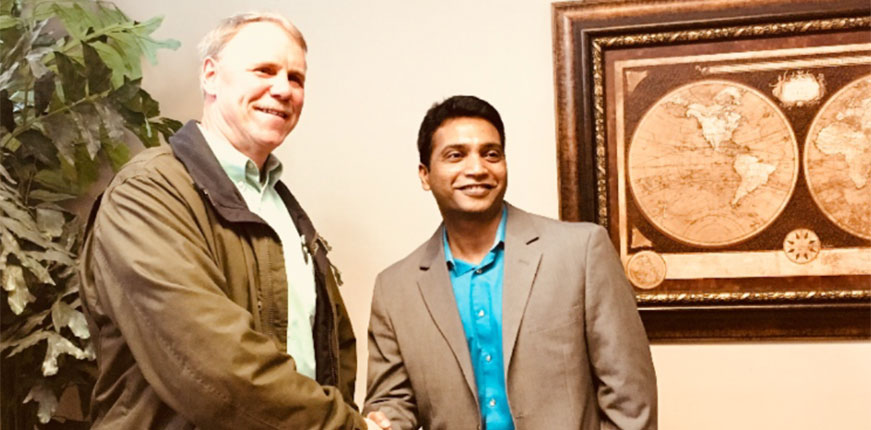 Changing Hands
posted by:

dspilko

No Comments
Calder Capital, LLC is pleased to announce the sale of West Michigan CNC machining company Aquest Machining of Greenville MI to FabX Industries, Inc. FabX Industries was formed to acquire Aquest by Gopi Ganta, an individual owner-operator. Aquest is a provider of tight tolerance cutting and machining of aluminum extrusions.
Since Bob Playford's acquisition of the company in 1996, it has grown into a leading machining company capable of CNC saw cutting, CNC product machining, light stamping, prototyping, fabrication and fixture building, mig/tig welding, as well as vibratory deburring and assembly operations for kitting and packaging fulfillment. Over the years, Aquest has invested heavily into operations and emphasized continuous improvement. The company's loyal customer base appreciates its superb quality, professionalism, flexible production scheduling, short lead times, and quick turn times.
Bob Playford of Aquest stated "We have been blessed with team members who are committed to providing our clients with outstanding value and timely delivery. That has helped grow our business to its current level. After working in the business for numerous years, it was time to transition the company to new ownership. After engaging with Calder Capital, we had numerous inquiries and multiple offers. Most of the potential buyers were capable companies or individuals. With FabX Industries, we felt that it was the right combination for the future of the business. Not only is Gopi a competent individual, he is committed to the clients we have and the team we have built. He will continue to grow the business out of Greenville which will be good for the community." Bob Playford will stay on as a consultant for the company for an undefined period.
Gopi Ganta states, "I had been looking for the right acquisition opportunity in the manufacturing space for a few years. Aquest is one of the best run operations I have ever seen. As a result of the company's commitment to quality and its equipment capacity, I felt that the company has a lot of growth potential. We are planning on measured growth while ensuring that we continue to provide excellent value to our existing client base."
Prior to acquiring Aquest, Mr. Ganta's background included 18-years of operational experience in the manufacturing space and being responsible for multiple plants. He is also well versed in lean manufacturing, Six-Sigma, finance and strategy management, among other things. After completing his graduate industrial engineering degree from Western Michigan, he went on to obtain two other Masters Degrees related to business management.
Calder Capital represented Aquest as it Mergers and Acquisitions Advisory firm. Ghazey Aleck and Pankaj Rajadhyaksha served as co-advisors for Aquest Machining.